Granta sedan
Granta liftback
Granta sport
Kalina hatchback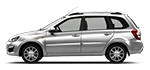 Kalina sw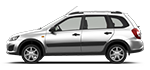 Kalina cross
Kalina sport
Priora sedan
Vesta sedan
XRAY hatchback
Largus sw 5 seats
Largus cross 5 seats
Largus sw 7 seats
Largus cross 7 seats
Largus wagon
4x4 3 door
4x4 urban
4x4 5 door
OPEN MODELS
Review Kalina Sport
DESIGN
Any car brand strives to develop its vehicle line in order to be up to modern challenges. The creation of LADA Kalina Sport was a logical step in this direction.
The owner of Kalina Sport hatchback can be sure that his car will be noticed. A dynamic silhouette, a smart body style, all of these underline the temperamental character of this low rider, and thus its driver's style. Kalina Sport reflects its owner's personality.
DYNAMICS
Kalina Sport is a car that ideally reflects the desire of modern active people. Young people with positive life attitude will find it irresistible. It is for those who are determined to succeed in life.

The life of Kalina Sport is full of drive, speed, negation of clichés.

The world of a car that makes your life richer and brighter.
STRUCTURE
Kalina Sport will attract your attention at once. The front and the rear car kits, the side skirt and the aerodynamic spoiler emphasize the aggressive character of this sport car. A bigger wheel size allows a better feedback to steering.

You will feel like a real racer at the stylish ergonomic steering wheel of Kalina Sport. The seats are designed in a sports style and add to this feeling, inviting you to the world of speed, emotions, giving energy.

Each and every one longs for speed. Kalina Sport has a 120 horsepower engine, allowing to go up to 100 km/hour in 9.5 seconds, which corresponds to the leading European modes of this grade. A modernized transmission, a rigid sports suspension, a modified tune-up of the brake - all contribute to Kalina Sport being provocative and assertive.